2 Day Inca Trail Tour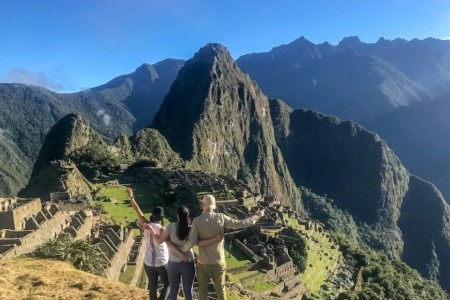 Price: From US$ 590 per person
By Alpaca Expeditions
On your 2 Day Inca Trail Trek to Machu Picchu you are going to hike 6 hours in total approximately (in these 2 days). So, it's a 4-hour hiking the first day and 1 hour from base camp to the Sun Gate from where Machu Picchu can be seen.
You'll enjoy one night of camping at an exclusive campsite, which includes a well- deserved hot shower, freshly prepared meals and areas to charge batteries/phones.
Tour Type: Trekking/Hiking, cultural, adventurous

Good For: Those in moderate shape, families.
Difficulty: Moderate. It's not a technical hike but the altitude may affect some hikers.
Consideration: Permit is required, but this is a separate permit process and generally available with little notice. Closed in February.
2 Day Inca Trail Tour Itinerary
Day 1: Inca Trail – Sun Gate – Machu Picchu
After 4 am pick-up from your hotel in Cusco, you'll head to the train station and leave on the 6:10 am train from Ollantaytambo. This train is one of the most magnificent trains to ride in the world. Be prepared for phenomenal views of the Urubamba River, the soaring snow-capped mountain peaks and cornfield farms.
As we descend, you'll see the micro-climate changes from the mountains and cornfields to green jungle valleys. This includes ferns, bromeliads, and orchids as the temperature starts to get warmer. This train ride is one hour and 45 minutes to Km 104, where we'll disembark to meet your trekking chef and porters.
This is where you'll be served your freshly cooked breakfast before starting your trek. Be sure to bring your original passport since this is the very first checkpoint along the Inca Trail. After breakfast you'll have some time to prepare before beginning the hike.
Trek the Inca Trail, enjoy the views from the Sun Gate, sunset views from Machu Picchu, camping at the foot of Machu Picchu.
Soon after we'll get to explore the first Inca site, Chachabamba, which is first ancient Incan checkpoint to enter the Inca trail. Your tour guide will give you some background history on these amazing ruins. Then you'll have a three-hour hike up to the most famous Inca site along the trail Wiñay Wayna.
You'll see amazing views of Machu Picchu Valley and the Urubamba River along the trail as well as the flora and fauna that are native to the area. There are also waterfalls and spectacular views of Machu Picchu Mountain. The trail itself has some flat areas as well as some short uphill and downhill hikes. It also has steps arranged in sections that can be narrow in some areas but not dangerous.
Once you arrive at the Wiñay Wayna Inca site you'll have time for a tour by your Englih speaking guide. He'll provide you with time to explore the Inca site, temples, waterfalls, gardens, storehouses, watchtowers and farming terraces.
Then it's only a short walk to the lunch spot where your trekking chef and porters will be ready for your arrival. They'll have cold drinks and delicious fresh food prepared by the chef and served buffet-style. After lunch there'll be time for a short nap.
Then it'll be a one hour gradual up and downhill hike to get to the Sun Gate. There you'll have spectacular views of Machu Picchu, Huayna Picchu, and the surrounding valleys. The Sun Gate was used by Incas to observe the sunrise from Machu Picchu during the summer solstice. From here it's another hour hike to the Machu Picchu ruins. Once in Machu Picchu you can explore the watchtower area where you can get charming pictures of Machu Picchu (without crowds). We'll then take the 20-minute bus ride to the campsite of Puente Ruinas. When you arrive at the campsite your tents will be all set up. You'll meet your porters and enjoy a social happy hour with hot drinks and dinner.
Later in the evening we'll have a small ceremony with your chef and porters for your last night with them. They'll still be there the next morning to cook breakfast and for a proper goodbye.
* This hiking route is identical to our 2 Day Inca Trail with Hotel.
Highlight: Trekking the Inca Trail, enjoying the views from the Sun Gate, sunset views from Machu Picchu, camping at the foot of Machu Picchu
Walking Distance: 15 km / 8 miles

Meals: Included
Elevations: Trek starting point 2,000 m, the highest point is Sun Gate 2,720 m, the camp is at 1,900 m
Weather: Hot and humid
Day 2: Machu Picchu (The Lost City of the Incas) & Return to Cusco
Our team will wake you up early with your choice of hot drinks. You'll then have time to prepare your duffel bags, day packs and to enjoy your freshly made breakfast. We'll walk 30 minutes to the bus station to be one of the first in line to go up to Machu Picchu (sometimes there is a 20-30 min wait in the line to board the bus).
The first buses will depart at 5:30 a.m. and arrive at 6:00 a.m., into Machu Picchu.
Again, you need to have your original passport at this checkpoint. Your tour guide will take you to the perfect spot to enjoy the sunrise over the mountains and get some amazing pictures (weather permitting). We'll then have a two hour private walking tour of the Machu Picchu ruins with all of its fascinating history. You'll also have free time to explore Machu Picchu on your own. If you have booked a permit to climb Huayna Picchu or Machu Picchu Mountain you'll start at 10:00 a.m.
However, there are a lot of other things to see around Machu Picchu. There is the Inca Bridge, the Sun Gate, or you can walk around the temple and residential areas of Machu Picchu and mingle with the llamas. You'll need to catch your bus back down to the town of Aguas Calientes for lunch and train to Ollantaytambo.
From there you'll go by private van back to Cusco where our team will drop you off at your hotel.
Highlight: Arrive early to Machu Picchu to enjoy the sunrise

Temperature: Warm and humid
Meals: Breakfast Only
Train: Expedition tourist class
What's included (what we provide)
Professional Guides: All of Alpaca Expeditions' guides studied English and tourism at Cusco National University. They all grew up in the Cusco region, and are committed to teaching others about their heritage. They are fun yet professional and will ensure you are safe and happy.
Permits: As soon as we receive your details and deposit, we will purchase your permits (pending availability, check our Inca Trail Availability). These permits are for a specific date and in your name. They can't be changed once confirmed. Only your passport number is allowed to be updated. The permit includes an entrance to Machu Picchu.
Briefing: The night before your trek you'll come to the office for your briefing. You'll receive your duffel bag that'll stay with your porters while you hike. This bag should not exceed 7kg/14 lbs. and does need to include your sleeping bag and air mattress.
Porters: Your trek includes a personal porter who is responsible for carrying your duffel bag. There is no additional fee for this. You will not have access to your duffel bag until your evening campsite.
Transportation: You'll have transportation included in this trek. You'll be picked up directly from your hotel around 4 a.m. (unless you are staying in Ollantaytambo) and brought to KM 82 to begin your trek. Also included will be the Expedition Train from Aguas Calientes. You may also upgrade to the Vistadome Train for $75 per person. Once you arrive at the train station, a staff will take you back to your hotel in Cusco. Additionally, your round trip bus ticket from Aguas Calientes to Machu Picchu will be included.
Equipment: We have the best equipment. We use Eureka Timberline 4 person tents that are shared by only two people. You'll also have a spacious dining tent to enjoy your meals in.
Food: The chefs cook delicious meals that many previous trekkers have loved. We honor all food restrictions so be sure to add any that you have on your booking form and let your guide know at your briefing. Food is typically all served family- style.
You'll enjoy breakfast, lunch, and dinner each day for the trek along with a happy hour of tea and snacks. A snack will be provided each morning for you to enjoy along the hike. Your last meal with your chef will be after breakfast on day four.
Lunch on the last day is not included.
Water: Beginning from your first lunch until your last breakfast, we will supply all the water needed. This water is boiled, filtered, and then cooled before distributing.
You must bring personal water bottles and or a camelback. We recommend carrying about 3L worth. You'll be able to refill your water at each meal.
First Aid: Every guide has received training in first aid from a physician. We conduct mandatory training sessions every February that every tour guide must attend. Your tour guide will always have a first-aid kit for basic medical situations (traveler's diarrhea, cuts, scrapes, etc.) and oxygen. We'll get you off the trail as quickly and comfortably as possible if needed and ensure you get directly to a clinic for treatment.
Extras: We believe it's the attention to small details that separates us from other tour companies. Every trekker receives a small pillow to sleep with, a foam mattress for insulation, a day pack cover to protect their things while hiking, and a rain poncho. We'll work hard to create your best vacation a reality.
Satellite Phones: Top priority will always be the safety of our clients and our team.
While all our guides are prepared and trained to deal with issues clients may have on the mountain. Being a phone call away from any doctor, hospital, or friend helps everyone feel assured that they are safe. Radios, which all our guides have are limited in how far they can reach. We've added Satellite Phones to every trek as well as a Radio. Every guide will have a fully charged phone that can be used anywhere on the mountain to connect us anywhere in the world. And they can be used by our clients for non-emergencies as well. While they're not cheap to use they're available just in case you need to check in on the puppy you left at home with grandma.
Not included
Rentals
Every trekker needs a sleeping bag when camping. Inflatable air mattresses and walking sticks (with rubber tips) are optional but encouraged. If you don't want to bring any of the above, they are all available for rent:
Sleeping Bag: $15
Inflatable Air Mattress: $10
Walking Sticks (Pair): $10
Huayna Picchu
Huayna Picchu is the mountain that stands next to Machu Picchu. It is a 45-minute hike to the top. Going back down is quite steep if you are scared of heights. You would do this after your tour of Machu Picchu. The cost is $75. Arrangements need to be made at least one month in advance due to popularity. Please understand that the weather is out of our control.
Request Further Information. Get more. Do more.
If you have questions and doubts about this private 2 Day Inca Trail Tour, take your time in telling us your inquiries and we'll show you a lot more options to do (re-design).
Just email us at:
andeannwayss@gmail.com
Or WhatsApp us to:
+51 965154772 (Fredy, the guy responsible of answering your emails and inquiries at headquarter)
How to book
You can get it fully booked by paying an Initial Amount via PayPal and the Total Balance must be paid in USD or PEN cash at the end of tour, then this is how you'll get your Tour Confirmation from us.
After we receive your "Booking Request", we'll back to you as soon as possible with the PayPal link and the exact first amount to be paid.
Additional information and requirements will be detailed on the email (or via WhatsApp).
After we receive your email we'll back to you as soon as possible with the PayPal link.
The exact amount and additional requirements will be sent to you later.
NOTE: The itinerary and deep description belongs to Alpaca Expeditions, feel free to visit their website by clicking here.
Now please, start by filling the Booking Form below.