Colca Canyon 3 Day Trek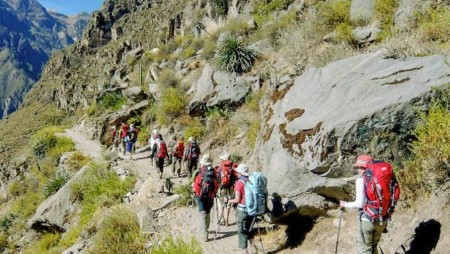 Group Tour Price: US$ 95 per person
Private Tour Price: from US$ 690 per group (up to 4)
To do Colca Canyon 3 Day Trek is not harder than the Colca Canyon 2 Day Trek, highly recommended for people that have plenty of time to enjoy on their own pace this 3 day trek.
This 3 Day Colca Canyon trek is recommended above the 2 day trek because you have more time to enjoy the views and take pictures. The trail is downhill, flat and uphill. Altitudes range from 1900 to 3300 meters above sea level. Generally very little acclimatization is necessary if you have spent time in Arequipa, Puno, or Cusco.
Arequipa to Colca Canyon 3 Day Trek Features
Tour Type: Guided Bus/Van Ride Trip and Trekking
Tour Duration: 3 days
Hotel Pick-up Time: from 3:00 to 3:30 am (first day)
Santa Catalina Monastery Drop-off Time: from 5:30 pm (second day)
Consideration: Regular physical activity required (medium)
Highlights: Volcano viewpoint (Mirador de los Volcanes), Colca Valley views, Condor Cross, majestic flight of Condors, Hot springs of La Calera.
Trek starts at 3am from Arequipa and finishes at 5pm on the 3rd day in Arequipa.
3 Day Colca Canyon Trek is of a Medium difficulty level – A decent level of fitness is needed, but it is easier than the 2 day Colca trek.
Treks do include food but it is recommended to bring some extra snacks (fruit, cereal bars, etc) with you.
Colca Canyon 3 Day Trek Itinerary
Day 1: From Arequipa to Condor's Cross to San Juan de Chuccho
Leave Arequipa for Colca Canyon after hotel pick-up (between 3 and 3:30 am) then after 3 1/2 hours driving, we'll stop in Chivay to enjoy breakfast.
Later, we continue driving to one of the most popular points of the canyon, "Condor's Cross" (Mirador Cruz del Condor), where we stay for about 40 minutes to watch the Condors fly.
Arequipa to Cabanaconde drive, trek to Sangalle (overnight). Day 2 return hiking up, hot spring in Chivay and return to Arequipa.
We will continue for another 20 minutes by bus, then our trek downhill begins. We trek downhill from 3300 meters above sea level to reach the bottom which will take approximately 3 ½ hours, at an altitude of 2100 meters above sea level. We will have lunch, dinner and stay overnight in San Juan de Chuccho village which has a tropical climate with a lot of vegetation. The accommodations here are basic rooms.
Day 2: San Juan de Chuccho to Malata to Oasis
08:00 am After breakfast, we continue to the town of Cosñirhua to see the production of honey, which is made by the local people and taste the honey. It is possible to see archaeological ruins left by pre-Inca cultures around the area.
Going on, we reach the town of Malata and its old Spanish church design. Then, we descend to the deepest part of our trek to Sangalle Village at 1900 metres above sea level.
Dinner and overnight in bungalows.
Day 3: Trek to Cabanaconde, drive to Chivay to Arequipa City
05:00 am Trek uphill to Cabanaconde which will take approximately 3 hours. On arrival, we will have breakfast in Cabanaconde and then take our transport to Chivay on the way back to Arequipa. At approximately 12:00 pm, we will arrive to Chivay towards the hot springs.
In Chivay, we will have a typical lunch of the region and then head back to Arequipa. On the way back, we descend from 4830 meters above sea level to 2325 meters above sea level passing through a National Reserve and Pampa Cañahuas, which is a habitat for the four kinds of South American camelids.
(Llama, Alpaca, vicuña and guanaco). We return to Arequipa at approximately 17:30 pm.
What is included:
Round trip tourist transportation – private bus so your seat is always reserved.
Meals (3 Breakfast, 2 Lunches, 2 Dinners).
English speaking trekking guide – local expert who knows everything about the Canyon.
Two nights in the rustic huts
Not included:
Entrance ticket to Canyon: S/.70 soles – not included on any tour due to it being illegal to include it.
Entrance to the Hot Springs: about S/.15 soles – OPTIONAL
Last lunch in Chivay – Operators will direct you to the tourist buffet restaurants which cost around 30 soles. THIS IS OPTIONAL and you do not have to eat here.
Recommendations:
The passenger has the obligation to mention any health problem or past injury to assure and guarantee the safety of the trip.
Tips for the guides are not included.
Wear warm layers for the early morning transport, as the route to the canyon reaches altitudes of almost 5000 meters above sea level and can have freezing temperatures.
NOTE: THIS TREK ISN'T EASY, SOME SAY IT'S HARDER THAN MACHU PICCHU'S! For people who get tired during the trek, it is possible to hire mules.
What to bring?
If you're booking a 2-day round-trip (Arequipa/Colca/Arequipa) 2 Day Colca Canyon Trek, just bring a small bag. Large luggage can be stored at your hotel/accommodation in Arequipa. But if planning to travel to Puno from Chivay bring all with you (there is enough room).
Photocopy of passport and immigration card (TAM)
Light backpack
1.5 to 2 litres of water for day 1 (if you need more you can buy it at the small shops at the villages BUT expensive)
Sun cream (very important)
Hats, sunglasses
Trekking shoes or boots
Waterproof rain jacket
Warm layers, sweater or jacket (IMPORTANT) –Temperatures reach lows of -10 Celsius
Shorts or pants for walking
Swimming suit, sandals, towel – swimming pools in the oasis, and thermal baths in Chivay on the way back to Arequipa!
Flashlight/ headtorch – Early trek out of the Canyon starts at 5am before sunrise (It is dark!)
Basics like toilet paper, etc
Snacks (Breakfast on the last day is AFTER the early morning hike out of the Canyon – bring enough snacks to fuel you up the climb!)
Insects repellent
Personal medications (if necessary)
Hiking sticks (optional)
Money
Request Further Information. Get more. Do more.
If you have questions and doubts about Colca Canyon 3 Day Trek from Arequipa, take your time in telling us your inquiries and we'll show you a lot more options to do.
Just email us at:
andeannwayss@gmail.com
Or WhatsApp us to:
+51 965154772 (Fredy, the guy responsible of emails and inquiries at headquarter)
How to book
You can get it fully booked by paying an Initial Amount via PayPal and the Total Balance must be paid in USD or PEN cash at the end of tour, then this is how you'll get your Tour Confirmation from us.
After we receive your "Booking Request", we'll back to you as soon as possible with the PayPal link and the exact first amount to be paid.
Additional information and requirements will be detailed on the email (or via WhatsApp).
After we receive your email we'll back to you as soon as possible with the PayPal link.

The exact amount and additional requirements will be sent to you later.
Now please, start by filling the Booking Form below.