Cusco City Tour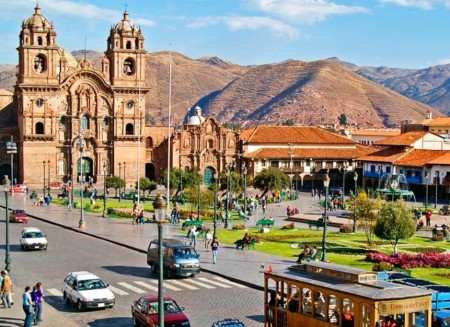 Price: US$ 98 for a solo traveler
US$ 50 per person (min 2 people)
US$ 40 per person (min 3 people)
On this Cusco half-day city tour you'll explore the capital of the Incas from a historic, cultural and architecture perspective visiting the most representative ones.
Cusco City Tour Itinerary
Tour Duration: From 1:00 pm to 6:00 pm
Qoricancha
1:00 pm hotel pick-up, our driver and tour guide meet you at your hotel then after tour begins with the visit to Qoricancha Temple, the most important building during Inca ruling time. Also known as the Temple of the Sun, there inside you'll observe detailed and well preserved architecture among smaller ones dedicated to the moon, stars, lightning, thunder and rainbow. On top of this temple later during Spanish time Santo Domingo church was built.
Sacsayhuaman
It stands on top of a hill overlooking the city of Cusco, considered as a religious site although Spaniards said to be a military fortress because of its location and the way it was built.
Trek the Inca Trail; enjoy the views from the Sun Gate, sunset views from Machu Picchu, camping at the foot of Machu Picchu.
Qenqo
A sacred place dedicated to the Condor, Puma and snake the totem animals representing the concept of the three worlds. The Inca also took advantage of the natural rock formation to represent the Andean constellations.
Puka Pukara
Then we go to Puka Pukara considered as a shelter for travelers coming from the Amazon to Cusco. It was also a military center and used to protect the nearby temple located at Tambomachay.
Tambomachay
Our last stop is Tambomachay, known as the Temple of Water, where the Incas practiced religious traditions tied to water in order to rejuvenate the land. This tradition is known as the fountain of eternal youth. From there, we will return to the city and drop you off at your hotel at around 6:00 pm.
What's included (what we provide)
Private vehicle
English speaking tour guide
Not included
Entrance tickets to the sites.

Note: You'll have to purchase a tourist pass to enter the sites on this tour. You can purchase a partial tourist pass for S/. 70 soles, if you plan to visit only the sites in Cusco during your trip.
However, if you plan to visit sites in Cusco and the Sacred Valley, we recommend you to purchase the full tourist pass for S/. 130 soles. It is not necessary to purchase the tourist pass in advance, as you can get it at the first site you'll visit on the tour.
On behalf Qoricancha, it has its own entrance ticket which costs 15 soles per person (about $5 USD).
Request Further Information. Get more. Do more.
If you have questions and doubts about this private Cusco City Tour, take your time in telling us your inquiries and we'll show you a lot more options to do.
Just email us at:
andeannwayss@gmail.com
Or WhatsApp us to:
+51 965154772 (Fredy, the guy responsible of answering your emails and inquiries at headquarter)
How to book
You can get it fully booked by paying an Initial Amount via PayPal and the Total Balance must be paid in USD or PEN cash at the end of tour, then this is how you'll get your Tour Confirmation from us.
After we receive your "Booking Request", we'll back to you as soon as possible with the PayPal link and the exact first amount to be paid.
Additional information and requirements will be detailed on the email (or via WhatsApp).
After we receive your email we'll back to you as soon as possible with the PayPal link.
The exact amount and additional requirements will be sent to you later.
Now please, start by filling the Booking Form below.