Death Road Tour by Car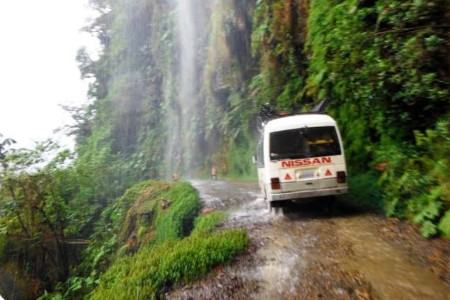 From US$ 95 per person
At Andean Ways you can visit The Death Road by Car besides our Mountaing Biking Descending.
You'll enjoy anyway the thrilling landscape of the Death Road without the risk or fear of riding a mountain bike.
You'll get an English speaking tour guide to follow the route with stops to take pictures while enjoying the spectacular scenery of the beautiful Yungas!.
Go behind a tree and have a leak in nature or dance under one of the waterfalls on the way! Be daring and try something different!
A new paved highway to Cocoiro was built in 2007 which greatly reduced the number of vehicles on the old Death Road. This means that Bolivia's infamous Death Road, where hundreds of people died in traffic accidents, is really not all that dangerous anymore.
Request Further Information. Get more. Do more.
If you have questions and doubts about Death Road Tour by Car, take your time in telling us your inquiries and we'll show you a lot more options to do.
Just email us at:
andeannwayss@gmail.com
Or WhatsApp us:
+51 965154772 (Fredy, the guy responsible of answering your emails and inquiries at headquarter)
How to book
You can get it fully booked by paying an Initial Amount via PayPal and the Total Balance must be paid in USD or PEN cash at the end of tour, then this is how you'll get your Tour Confirmation from us.
After we receive your "Booking Request", we'll back to you as soon as possible with the PayPal link and the exact first amount to be paid.
Additional information and requirements will be detailed on the email (or via WhatsApp).
After we receive your email we'll back to you as soon as possible with the PayPal link.
The exact amount and additional requirements will be sent to you later.
Now please, start by filling the Booking Form below.