La Paz to Puma Punku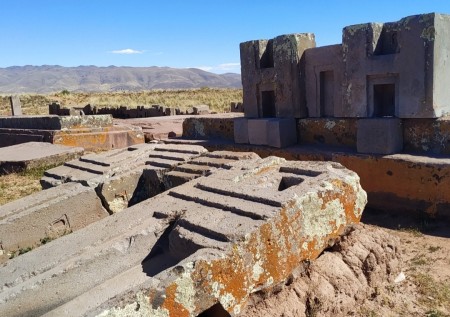 From US$ 8 per person (2 up to 4)
How to Get from La Paz, Bolivia to Puma Punku, Tiwanaku
If you're planning to visit Puma Punku at the archaeological site of Tiwanaku from La Paz then consider one of these 5 realiable ways to get there.
1. Take Colectivo (Local Van Transportation)
Trans Tours Tiwanaku is a local company operating daily van/bus ride from La Paz (Cementerio y Plaza Tomas Katari) to Puma Punku, Tiwanaku. These local vehicles leave every hour just after they filled up with the enough number of people. Tickets can be get in person and costs $8 per ride/person and the journey could take 1h 35m.
2. Take Taxi from La Paz
A private taxi ride could cost $30 to $40 USD (round-trip including wait while you explore the site).
It's highly recommended to pay just the third part of the total amount. If you pay total, some taxi driver can leave you at the site and return to La Paz without you.
Some good taxi companies suggested:

Speedy Jr – Radiotaxi. Phone +591 2 2233434
Radio Taxi Milenio: Phone +591 2 2383838
Radio Taxi City La Paz: Phone +591 2 2221212
Diplomatico – Radiotaxi: Phone +591 2 2224343
3. Take a Private Car
You would hire a reliable friendly private driver and car from us for $70.00 USD (1 up to 8 people). Our Bollivian team mate Abel is available daily for a direct ride with some photo stops along the way.
Any time pick-up from your hotel in South La Paz, Downtown or from el Alto Airport. Upon arrival to Puma Punku, Abel helps you to purchase the entrnace ticket even get a local English speaking guide for your guided visit to Puma Punku and Tiwanaku. He takes you to some suggested restaurants for lunch (not included).
Even with a short notice we can provide a private vehicle (if you have any paricular type of vehicle , do not hesitate to let us know).
4. Join a Group Tour from La Paz to Puma Punku
This is a group guided tour deparing daily from La Paz to Puma Punku. You would be picked up from your downtown hotel between 8.00 and 9:00 am. After this drive for about 1 hour 45 minutes with a bilingual guide onboard the vehicle.
Your guide explains at each attraction you visit. After about 2 hours and 30 minutes you head to a local tourist restaurant for a tasty lunch.
As this is a shared service expect just brief eexplanation of Sun Gate, Akhapana pyramid, Puma Punku.
Price per person: $65.00
Inclusions:
Guide
Shared Tourist transportattion.
Entrance fee.
Lunch and return to La Paz.
5. Book a Private Fully Guided Tour to Puma Punku from La Paz
$169 for one person
$ 99 per person (2 up to 4)
A fully English speaking guide delivers deep information about Puma Punku and surrounding ruins.
You'll visit Puma Punku, Museums, Kalasasaya temple, Underground temple, Akhapana pyramid.
Lunch will be at Taypi Uta restaurant.
Includes:
Guide.
Private transportation.
Entrance fee.
Lunch.
Drop-off at your hotel.
What you should bring
Sun block.
Extra cash (for some souvenirs made of clay)
Jacket.
Hat.
Alcoholic and cold drinks are not included at the restaurant.
Request Further Information. Get more. Do more.
If you have questions and doubts about La Paz to Puma Punku, take your time in telling us your inquiries and we'll show you a lot more options to do (or re-design the entire itinerary).
Just email us at:
andeannwayss@gmail.com
Or WhatsApp us to:
+51 965154772 (Fredy, the guy responsible of answering your emails and inquiries at headquarter)
How to book
You can get it fully booked by paying an Initial Amount via PayPal and the Total Balance must be paid in USD or PEN cash at the end of tour, then this is how you'll get your Tour Confirmation from us.
After we receive your "Booking Request", we'll back to you as soon as possible with the PayPal link and the exact first amount to be paid.
Additional information and requirements will be detailed on the email (or via WhatsApp).
After we receive your email we'll back to you as soon as possible with the PayPal link.
The exact amount and additional requirements will be sent to you later.
Now please, start by filling the Booking Form below.