Lake Titicaca 2 Day Tour from La Paz
US$ 539 for a solo traveler (private)
US$ 333 per person (min 2 people)
On Lake Titicaca 2 Day Tour from La Paz you're picked up from your hotel and then taken to Copacabana, you'll navigate by boat to Sun Island (overnight experience). Next day visit Moon Island. Return to La Paz. Private Day Car Trip from La Paz.
Two Day Tour leaves La Paz for Sun and Moon Islands in Lake Titicaca with visits along the way, overnight on Sun Island, and tour of Moon Island to finally return to La Paz.
Two Days Tour leaves La Paz for Sun and Moon Islands in Lake Titicaca with guide along the way, overnight on Sun Island, and tour of Moon Island the next day.
Tour Overview
Day 1: La Paz – Copacabana – Isla del Sol
7:30 am Early departure to Copacabana along the way stop at Strait of Tiquina and at Copacabana town to explore its attractions.
10:00 Boat transport to Sun Island from Copacabana bay. A motor boat takes us to the Island of the Sun, visit the Pilcocaina temple, Incan grand stairs, and three fountains of eternal youth.
1:00 pm Lunch and overnight on Titicaca House Lodge with views to the Lake.
Day 2: Isla del Sol – Moon Island – Copacabana – La Paz
8:00 am Early breakfast and trip to the Moon Island. Here visit the temple of the virgins, great views of the Cordillera.
Then return to Copacabana port, have lunch and overland transfer back to La Paz or travel to Puno city.
Tour Description
This is a unique journey of a lifetime. It will leave you with a new sense of wonder and some great stories to share.
7:30 am Depart La Paz early in the morning, enjoying spectacular scenery as you drive through a series of interesting villages and communities on the lake southern shore and the Andean plains to Copacabana on the Bolivian side of Lake Titicaca.
En route, your journey begins with an introductory explanation of Tiwanaku culture, Aymara Kingdoms, Inca arrival and Spaniards invading chronology.
Upon arrival at the bay of Copacabana, we take immediately a motor boat to Pilcocaina pre-Incan temple through beautiful landscape, you will continue for a 130 minutes navigating over the Lake through an amazing view on the shores of Lake Titicaca.
La Paz to Sicuani to Sun Island, local living, meals at Titicaca House. Day 2: boat to Moon Island, lunch and drive to Puno.
At the Temple of the Sun or Pilcocaina while you enjoy spectacular sights and you are informed by your guide about the rich history and legacy of the Inca culture.
From here hike to the Inca "Grand Stairs" and the Sacred Fountain; drink the water believed to give eternal youth and happiness.
This overnight tour is perfect if you´re looking for a mix of history, beauty and mysticism while visiting Lake Titicaca.
After the exploration and guided visit we walk to Titicaca House Lodge. Meals and accommodation included. Some local activities are offered to do in the late afternoon.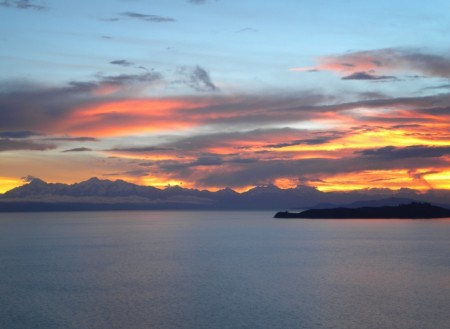 Next day keep exploring Lake Titicaca by motor boat navigation from Sun to Moon
Island, once there appreciate their natural and cultural wonders visit the Sun Virgins Temple "Iñak Uyu".
The natural beauty of this island is impossible to describe; you simply have to visit them to appreciate it. As one ascends the summits, you gain breathtaking views of the Cordillera.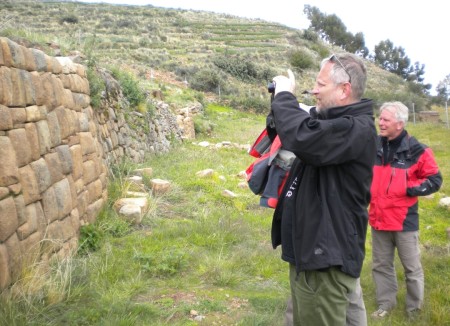 After some hours we'll come back by the same way to Copacabana, upon arrival visit the Main Plaza, local markets and the shrine and the Dark Indian Virgin of Copacabana. Lunch time and return to La Paz.
What we provide (what is included)
All round-trip Private transfers
Transport to Copacabana and to Yampupata.
Local motor boat transport for the Islands
All entrance Fees for Sun and Moon Islands in Bolivia.
English speaking guide.
Titicaca house lodge overnight (meals and bed)
Lunch in Copacabana the second Day
What you should bring
Sun block.
Extra cash.
Jacket.
Hat.
Alcoholic and cold drinks are not included at the restaurant.
Request Further Information. Get more. Do more.
If you have questions and doubts about Lake Titicaca 2 Day Tour from La Paz, take your time in telling us your inquiries and we'll show you a lot more options.
Just email us at:
andeannwayss@gmail.com
Or WhatsApp us to:
+51 965154772 (Fredy, the guy responsible of answering your emails and inquiries at headquarter)
How to book
You can get it fully booked by paying an Initial Amount via PayPal and the Total Balance must be paid in USD or PEN cash at the end of tour, then this is how you'll get your Tour Confirmation from us.
After we receive your "Booking Request", we'll back to you as soon as possible with the PayPal link and the exact first amount to be paid.
Additional information and requirements will be detailed on the email (or via WhatsApp).
After we receive your email we'll back to you as soon as possible with the PayPal link.
The exact amount and additional requirements will be sent to you later.
Now please, start by filling the Booking Form below.