Sacred Valley Tours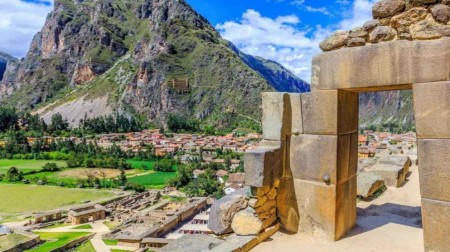 From US$230 per group (2-6 participants)
A full day tour from Cusco to the sacred valley of the Inca with guided stops at Pisaq ruins, Chincheros, and Ollantaytambo fortress to get a glimpse of Inca history, culture and heritage
On this Sacred Valley Tour Cusco we'll visit the most important archaeological complexes in the valley, wonder the art pieces and explore traditional markets in the town of Pisac, Ollantaytambo and Chichero. Nice weather and friendly locals make this day trip much more enjoyable.
Sacred Valley Full Day Tour Features
Tour duration: From 8 am to 6 pm
Start time: 8:00 am pick-up from hotels.
End Time: 6:00 pm drop-off by your hotel.
Tour Frequency: Daily
Sacred Valley Tour Itinerary
This best sacred valley tour of the Incas begins at 8 am in Cusco where you will be picked up at the hotel lobby by your personal guide, and then you all will be taken on a road that goes through the mountains north of Cusco.
El Mirador (Lookout Point) located on the way, it is an incredible place to see the Sacred Valley and gain some insight into Inca history previous arrival. The Sacred Valley was one of the main areas the Incas settled. There is an unusual abundance of fertile plains in this high area of the Andes. You will also witness vast contour terracing and irrigation channels left behind by the Incas.
Trek the Inca Trail, enjoy the views from the Sun Gate, sunset views from Machu Picchu, camping at the foot of Machu Picchu.
Then after, a smooth drive towards the ruins of Pisac to learn about the Inca culture. The archaeological complex of PISAC is famous for its agricultural terraces, and the largest Inca cemetery. You will see amazing works of stone art and impressive agricultural terraces. After exploring, we will drive back to the lower town of Pisac to stop at a bustling handicraft market. After you spend some time walking around the market bargain hunting, we will go for lunch to a local Andean restaurant.
Just after you had lunch, our next stop is Ollantaytambo, driving along side of the Urubamba river, where stands very important and impressive Inca stone constructions, rock formations representing the Inca God Wiracocha. This place does not change in more than 500 years, still maintains the urban designs and traces of the Incas, in this place we will visit the temple of the sun, agricultural sector, temple of the moon, Ceremonial fountain, and the hill TUNUPA.
In the late afternoon we'll return to Cusco and you'll get dropped off by your hotel.
What's included (what we provide)
Private Groups: This full day sacred valley tour from Cusco is only done privately and our prices are based on a group of two-six participants. You will travel comfortably by a private van. If your group is larger than six, please ask our representative for specific pricing.
Professional English speaking guides: All of our guides have English and tourism studies in Cusco National University. They all grew up in this region and have a true passion to teach others about their heritage.
Private vehicle: a spacious and seat reclining seats van, pick-up is directly from your hotel around 8 a.m. The van will be waiting for you at each stop when you are ready. We will return you directly back to your hotel.
Not included
Entrance Tickets: All of the sites visited on this tour require the Tourist Ticket. You can purchase this ticket at your first stop for 70 soles for a one day pass, or 130 soles for the 10 day pass.
Lunch: We will stop in Urubamba for a traditional lunch at a local restaurant. If you prefer another location, please feel free to tell your guide. This meal is not included in your tour cost.
Note: You'll have to purchase a tourist pass to enter the sites on this tour. You can purchase a partial tourist pass for S/. 70 soles, if you plan to visit only the sites in Cusco during your trip.
However, if you plan to visit sites in Cusco and the Sacred Valley, we recommend you to purchase the full tourist pass for S/. 130 soles. It is not necessary to purchase the tourist pass in advance, as you can get it at the first site you'll visit on the tour.
On behalf Qoricancha, it has its own entrance ticket which costs 15 soles per person (about $5 USD).
Request Further Information. Get more. Do more.
If you have questions and doubts about this private Cusco City Tour, take your time in telling us your inquiries and we'll show you a lot more options to.
Just email us at:

andeannwayss@gmail.com
Or WhatsApp us to:
+51 965154772 (Fredy, the guy responsible of answering your emails and inquiries at headquarter)
How to book
You can get it fully booked by paying an Initial Amount via PayPal and the Total Balance must be paid in USD or PEN cash at the end of tour, then this is how you'll get your Tour Confirmation from us.
After we receive your "Booking Request", we'll back to you as soon as possible with the PayPal link and the exact first amount to be paid.
Additional information and requirements will be detailed on the email (or via WhatsApp).
After we receive your email we'll back to you as soon as possible with the PayPal link.
The exact amount and additional requirements will be sent to you later.
Now please, start by filling the Booking Form below.