Salar de Uyuni Stargazing Tour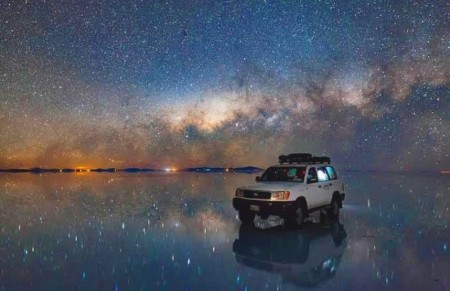 Price: From US$ 40 per person
A Uyuni stargazing tour is an amazing choice if you are planning to get out of the city to take a closer look at the stars or if you are looking for a heart-melting romantic experience.
Just imagine it, stargazing with that person who is a "sky full of stars" for you, in a place where "stars and salt collide". Our stargazing tours are combined either with a sunset or a sunrise over the salt flat. Experiencing a sunset/sunrise over the Salar is an unforgettable and romantic moment.
The Uyuni salt flat is a stargazing centre out of this world! (Check the best places to stargaze) The lack of light pollution (this light pollution world map shows the concentration of light pollution), clean air, wide night skies and visually breathtaking amazing surroundings of ethereal white beauty and wide horizon make this place one of the best stargazing destinations in the world. The white salty surface is highly reflective and when it floods during the wet season (From December to May) the thin layer of water creates a mirror reflection of the night sky above. You can see the sky reflected at your feet. It's like floating in open space!
Our private stargazing tour on the Uyuni salt flats take place all year-round and only on demand. But we do not operate with bad weather conditions. You might also want to consider if you want to take the tour during a full moon. This is because the visibility of the stars will not be very clear due to the moon's brightness. Please check the Lunar calendar Bolivia and our stargazing planner.
So which phase of the moon would be best for stargazing? The best phase of the moon for stargazing depends on what you want to do. Some enjoy watching the moon itself. On the other hand, people using telescopes avoid the moon because its glare interferes with deep-sky objects. The ideal situation for most people looking for a sky full of stars would be a new moon (also called the Dark moon) and a night with few clouds.
The Milky Way, the Magellanic clouds (distant dwarf galaxies), Saturn and Jupiter are commonly clearly visible across the sky, and on a good night and with a bit of luck you will see shooting stars.
With 10,582km², more than 10 billion tons of salt and containing up to 70% of the world's lithium reserves, Salar de Uyuni is the world's largest salt flat, a vast salt plain near the crest of the Andes in southwest Bolivia.
Heading to South America? But short on time or only able to visit one single highlight?
This should be it: A visit to the Uyuni salt flats. Although, not able to come just yet? Then we definitely recommend you add it to the very top of your bucket list!
REFERENCE PROGRAM Sunset with stargazing
Duration: approx. 6 hours
15:30 Uyuni – Colchani
Colchani – Salar – Salt mounds
Salt mounds – Salt museum
Salt museum – Sunset watching

Stargazing – Drop off in Uyuni or your salt hotel in Colchani.
Tour includes:
Private transport in a 4×4 with oxygen tube.
Spanish speaking driver.
Snacks and drinks.
Tour does not include:
Breakfast/dinner.
Guide (English speaking guide available at extra cost).
Telescope (We observe the naked eye sky)
Hotel accommodation.
Tips.
Questions & Answers
During what times of the year can you see the Mirror Effect?
The Mirror Effect occurs during the rainy season, so it can be seen during the months of January, February and March.
How is the weather? Is it very cold?
You need to keep in mind that this tour is in a high altitude and isolated area, so during winter the weather is very cold. These are the seasons during the year. - From October to March temperatures are warm, so days are around 20ºC (68ºF) and nights are less than 5ºC (41 ºF). - From April to September temperatures are cold, so days are around 10ºC (50ºF) and nights are around -5ºC( 23ºF) It is highly recommended to wear winter clothes during June, July and August months due to these months are coldest.
How can I get from Uyuni to La Paz?
The best way to get to Uyuni from La Paz is by plane or bus. We recommend the night bus of the company Transomar, which arrives in Uyuni at 6:00 a.m.
What kind of transportation is used for the trips?
The shared tours are done in 4x4 cars with 7 seats, 4 seats for our travelers and one extra for the driver.
Is there a choice of having a vegetarian menu without gluten...?
Yes, you just need to leave a note while you are making your booking so the driver will cook a special menu for you. In case of strong allergies pay special attention and for vegetarian/vegan diets, we recommend to bring snacks or any other complement due to our food will not have a high level protein on it like tofu or tempeh.
Do I need to bring money on the tour?
Yes, due to the Incahuasi access, Eduardo Avaroa parc and hot springs are not included. Moreover, during the tour you may need to buy water or souvenir, so it is advisable to bring around 300 pesos bolivianos.
If I select the extra: English speaking guide , can the driver and the guide be the same person?
Yes, if you select the extra: English speaking guide, in some cases, your guide can also be the driver of the vehicle. Depending on the availability of the staff and the size of your group, selecting this extra, you will travel in the 4x4 vehicle accompanied by 1 guide + 1 driver or only one guide who will also be the driver.
In which hotels is pick-up not included?
The hotels Hotel Palacio de Sal, Hotel Luna Salada, Hotel Cristal Samaña and Hotel Sumaj Rijcharij do not include pick up. We offer two options, free pick up when the tour passes through the area (after visiting the train cemetery and Colchani) or the extra that includes pick up and transfer to Uyuni to start from the beginning with the whole group.
Request Further Information. Get more. Do more.
If you have questions and doubts about Salar de Uyuni Stargazing Tour, take your time in telling us your inquiries and we'll show you a lot more options.
Just email us at:
andeannwayss@gmail.com
Or WhatsApp us to:
+51 965154772 (Fredy, the guy responsible of answering your emails and inquiries at headquarter)
How to book
You can get it fully booked by paying an Initial Amount via PayPal and the Total Balance must be paid in USD or PEN cash at the end of tour, then this is how you'll get your Tour Confirmation from us.
After we receive your "Booking Request", we'll back to you as soon as possible with the PayPal link and the exact first amount to be paid.
Additional information and requirements will be detailed on the email (or via WhatsApp).
After we receive your email we'll back to you as soon as possible with the PayPal link.
The exact amount and additional requirements will be sent to you later.
Now please, start by filling the Booking Form below.