Salar de Uyuni to Atacama Desert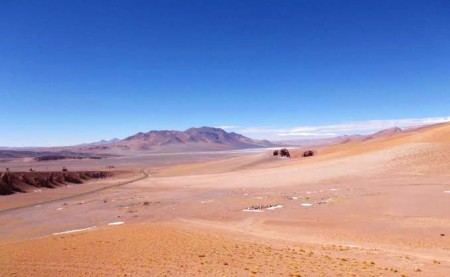 Price: From US$ 320 per person
Salar de Uyuni to Atacama Desert is a 3D/2N trip starting at Uyuni airport, visiting salt flats, lagoons and finally arrives to Atacama.
Located at 3,656 meters (11,995 ft) above sea level, Salar de Uyuni is world's largest salt flat. Thousands of years ago, the area now occupied by the last flat was home to a giant prehistoric lake. As it slowly dried up, the lake left behind two smaller lakes and the vast salt flats we know today.
It's no exaggeration to say that Salar de Uyuni is one of the most spectacular natural attraction in the world. The flats are like a giant mirror, covering an expanse of more than 10,000 square kilometers (3,900 sq mi). From a distance it looks like a vast sheet of ice, but as you reach the flats you'll see the strange hexagonal formations that cover the surface, formed by salt crystallization from the evaporating water.
As well as the otherworldly landscapes, visitors to Uyuni will see buildings made from blocks of salt, a train cemetery, strange cacti-covered "islands" and some of the clearest night skies imaginable, stretching from one horizon to the other.
Salar de Uyuni to Atacama Desert Day by Day Schedule
Day 1: Uyuni Salt Flat with Sunset Views, Tunupa Volcano and Surroundings
After you've had your breakfast, will pick you up from your hotel in La Paz and take you to the airport for your flight at Uyuni.
We'll pick you up from the airport in Uyuni and then depart for the salt flat. Our firs stop will be the Train Cemetery, where rusty old trains sit in the desert, a strange and incongruous sight indeed.
We'll also visit the village of Colchani, where you can see the slat extracting process and local handicrafts made of, you guessed it, salt. Then we stop at Playa Blanca and the salt museum, before having a look at the Ojos de Sal, or "salt eyes", fascinating features created at points where surface salt water drains away. Heading further out onto the salt flats, we'll stop to look at the hexagons that form on the surface, and take in the magnificent views across Uyuni.
Of course, you'll have time to take plenty of photos. From April to November is particularly interesting, when the surface of the salt flats gives the opportunity to play with perspective.
Alternatively, from December to March the salt flats are covered with a layer of water, becoming a huge white mirror where the sky is perfectly reflected on the flat surface.
Next we will head to Incahuasi, an "island" in the sea of salt. Located at the heart of the salt flat, Incahuasi is the largest of a group of islands that emerge from the salt, forming their own isolated ecosystem. The island is covered with a species of giant cacti that grow up to 12 meters high (26.25 feet), a peculiar site in the middle of the vast flats. We'll then have picnic lunch on the salt flats and wait for the stunningly sunset, before returning to our hotel, from where you at the night sky over Uyuni.
Picnic lunch, Dinner

Day 2: Uyuni Salt Flat Full Day
After breakfast we'll head out to the North side of Salar de Uyuni. Here we can have a look at the Coquesa mummies, human archaeological remains found in a small cave near the Tunupa Volcano. From here we have a fine vantage point for looking across the immensity of the Salt Flats. We'll then explore the circular and dripping-wet Chiquini Cave, which is full of stalactites and stalagmites. We will have picnic lunch or visit a nearby restaurant, and more time to explore the flats and take photos.
Breakfast, Picnic lunch
Day 3: Colchani to San Pedro de Atacama
On Day 3 we'll have breakfast and then your driver will take you from Uyuni to Ollague and onto San Pedro de Atacama.
Breakfast, Picnic lunch
Included
Accommodation: Hotels Superior Room with private bath.
Your Journeys Highlight moment: La Paz, Uyuni
Meals: 2 breakfasts, 2 lunches, 1 dinner
Shared land transport from and to hotel.
Meals mentioned in the program.
English speaking tour guide.
Visits mentioned in the program
4WD private transportation
Excursions to the Salar de Uyuni
Uyuni entrance fee
First aid kit, if you are taking any medications, please bring your prescription with you.
Excluded:
Minimum medical and emergency evacuation insurance
Trip cancellation insurance or any other travel insurance
Gratuities
Internal flight from La Paz to Uyuni
Request Further Information. Get more. Do more.
If you have questions and doubts about Salar de Uyuni to Atacama Desert, take your time in telling us your inquiries and we'll show you a lot more options.
Just email us at:
andeannwayss@gmail.com
Or WhatsApp us to:
+51 965154772 (Fredy, the guy responsible of answering your emails and inquiries at headquarter)
How to book
You can get it fully booked by paying an Initial Amount via PayPal and the Total Balance must be paid in USD or PEN cash at the end of tour, then this is how you'll get your Tour Confirmation from us.
After we receive your "Booking Request", we'll back to you as soon as possible with the PayPal link and the exact first amount to be paid.
Additional information and requirements will be detailed on the email (or via WhatsApp).
After we receive your email we'll back to you as soon as possible with the PayPal link.
The exact amount and additional requirements will be sent to you later.
Now please, start by filling the Booking Form below.