San Pedro de Atacama to Uyuni 2 day Tour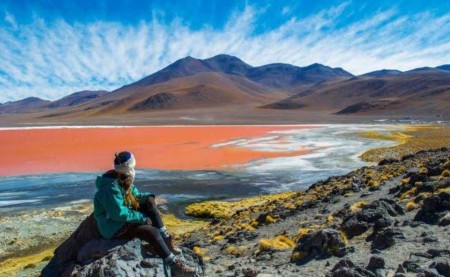 US$ 570 per person (based on 2 people)
San Pedro de Atacama to Uyuni 2 Day Tour goes through an impressive ethereal landscape. Check in to your hotel in Uyuni Town. The next day, you'll do the Salar de Uyuni Private Tour.
San Pedro de Atamaca to Uyuni 2 Day Tour Itinerary
DAY 1: Atacama to Uyuni Town
Atacama to Hito Cajón border
6:00 am
San Pedro de Atacama to Uyuni 2 day Tour Itinerary:
Day 1
Pick up at 08:00 a.m. from your hotel in San Pedro de Atacama - Chile.
Visit to the Amazing Lagoons: Green Lagoon and Colored Lagoon passing through the Salvador Dali Desert, Chalviri thermal water, Sol de Mañana (volcanic area -geysers), Stone tree, Pampa Siloli, Shiarkota, Honda and Hedionda Lagoon where a break will be served.
We'll continue the trip going to San Juan and visiting Ollague Volcano and Chiguana Salt Flat. Dinner and overnight to be spent at Hotel de Sal (Hotel feature rooms with private bathroom and hot water)
Day 2
Breakfast at 08:00 a.m. departure to the Majestic Uyuni Salt Flat. Visit the Galaxy Cavern, Uyuni Salt Flat, Fish Island, Incahuasi Island where we'll enjoy a meal.
Trekking around the area admiring the beautiful scenery.
Arrival to Uyuni town.
Atacama to Uyuni 2 Day Trip includes
Private transportation 4x4 vehicle
Meals: Breakfast, break and dinner and water
Accommodation
Experienced Spanish speaking tour guide.
If an English speaking guide will be needed please request him with anticipation at usd 40.- extra charge per day.
Services not included in the program:
Entrance ticket to:
Incahuasi Island 30 Bs.- = 4 usd /person
Eduardo Avaroa Reserve 150 Bs.- = 22usd per person
Caverns of petrified algae 15 Bs.- = 2usd per person
Additional Information:
The private tour is for 4 travellers.
In order to serve meals properly the company counts with tables, chairs, dishes and umbrellas.
First-aid kit and pipe of oxygen are available.
During winter the company provides to users hot water bags and blankets during the route.
Please dress appropriately, comfortable walking shoes, sunglasses and hat are recommended. - During winter carry gloves, scarf and warm clothes. (May, June, July and August)
The company rents sleeping bags during the route at extra charge of usd 5.-
The service doesn't include tips or extra beverages.
Request Further Information. Get more. Do more.
If you have questions and doubts about San Pedro de Atacama to Uyuni 2 day Tour, take your time in telling us your inquiries and we'll show you a lot more options.
Just email us at:
andeannwayss@gmail.com
Or WhatsApp us to:
+51 965154772 (Fredy, the guy responsible of answering your emails and inquiries at headquarter)
How to book
You can get it fully booked by paying an Initial Amount via PayPal and the Total Balance must be paid in USD or PEN cash at the end of tour, then this is how you'll get your Tour Confirmation from us.
After we receive your "Booking Request", we'll back to you as soon as possible with the PayPal link and the exact first amount to be paid.
Additional information and requirements will be detailed on the email (or via WhatsApp).
After we receive your email we'll back to you as soon as possible with the PayPal link.
The exact amount and additional requirements will be sent to you later.
Now please, start by filling the Booking Form below.