Sun Island Day Tour from La Paz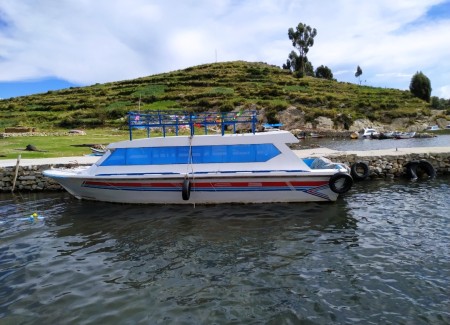 US$ 295 for one person (private)
US$ 165 per person (2 up to 4)
Sun Island Day Tour from La Paz is a small quality group tour beginning with the pick-up from your hotel.
This Lake Titicaca Day Tour from La Paz takes you from La Paz city to Isla del Sol through an alternative and off the beaten road to save time.
Your Copacabana to Isla del Sol time travel will be minimized by taking the dust road from Copacabana to Sicuani pier, on the way you'll see people in their local daily basis and enjoy beautiful views.
Then after navigate to Isla del Sol, the birthplace of the Inca Empire, by a local motor boat for about 30 minutes. You'll have Lake overlooking lunch after or before your Isla del Sol Guided Tour, all time accompanied by your English speaking tour guide.
In the late evening you'll be back again in La Paz and dropped off at your selected hotel (or stay in Copacabana).
Isla del Sol Day Trip Schedule of Arrivals & Departures


7:30 am pick-up and La Paz to Tiquina drive.
9:00 am cross by small local ferries the Strait of Tiquina (boat tickets should be purchased in person, $ 2)
10:20 am arrival to Copacabana but keep driving to Sicuani pier.
10:50 am arrival to Sicuani community in the Peninsula of Copacabana and take the local small covered motor boat to go Isla del Sol.
11:30 am visit of Pilcocaina the first Inca temple ever built, walk along its path to Fountain of eternal youth, the Inca grand stairs in Yumani community.
1:00 pm lunch on Isla del Sol overlooking the Snow mountains in the Bolivian range.
2:30 pm take the boat again and return to Sicuani.
3:10 pm upon arrival to local Sicuani pier take the same vehicle and drive to Copacabana.
3:30 pm we have some free time to explore Copacabana town escorted by your guide and a quick visit of its attractions (local market, Church and/or Candelabro).
8:00 pm Drop-off at your hotel in La Paz (+20 min drive if your hotel is located in the Southern side)