Uros Islands Sunset Boat Tour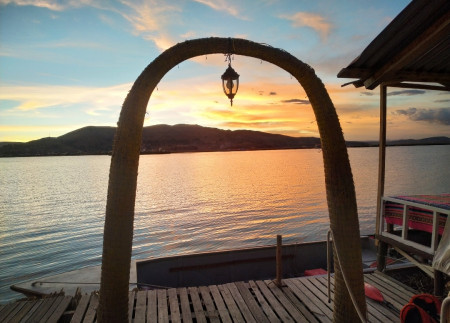 US$ 30 per person (min 2 people)
US$ 55 one person (private)
Uros islands sunset boat tour is one of our several Lake Titicaca Tours we have designed for your unique and total enjoyment when visiting Puno.
Enjoy the reflection of the sun over the highest navigable lake's water, see the changing of color and the night view of Puno when returning from Lake Titicaca floating islands.
Tour Features
Tour Type: Reduced group guided Boat Tour
Tour Duration: 2 hours and 15 minutes
Hotel Pick-up Time: from 4:30 pm
Hotel Drop-off Time: from 6:50 pm
Consideration: Not lots of walking involved, bring warm clothes.
Highlights: meet and encounter the locals, learn the process of building the man-made reed floating Islands of Uros people, watch sunset on Lake Titicaca floating islands.
Find Local Trips
Find Local Puno Tours at Andean Ways avoiding large and non-flexible group boating tours from Puno city to Uros reed Islands in the afternoon. As local operator, we want to offer you the best option to visit in a comfy, different way and with plenty of time the Uros Ethnic group in Lake Titicaca.
Tour Itinerary
We will go to 4:30 pm tour to Uros reed floating island, great for watch sunset on the water.
4.30 pm pick-up from your hotel or from Puno bus terminal.
4:45 pm arrival to port and boat transportation to the most amazing inhabitants of Lake Titicaca: the Uros culture.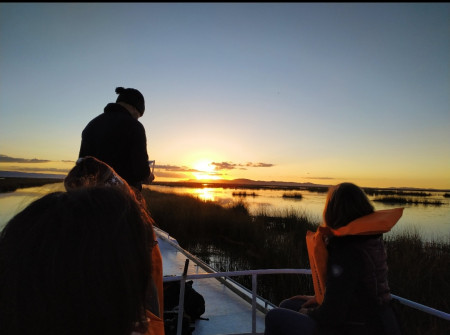 5:15 pm guided visit to one of the reed Islands and get unique insights of your English speaking guide (reed island building process, origin of the Uros people, meaning of "Titicaca", embroideries, etc). Visit inside their houses; learn about their textile and handicrafts.
Early departure and boating to Uros Islands to catch up the sun rising over the Lake after the guided tour have breakfast on a floating reed Island.
6:45 pm return to Puno city and transfer back to your hotel on arrival. On the way back to Puno port we'll enjoy spectacular night view of Puno city seen after
What's included (what we provide)
Group transfer from your Puno hotel to port.
Small or regular engine boat.
English speaking guide.
Entrance fees.
Return to hotel.
Request Further Information. Get more. Do more.
If you have questions and doubts about Uros Floating Islands Sunset Boat Tour, take your time in telling us your inquiries and we'll show you a lot more options to do (or re-design it).
Just email us at:
andeannwayss@gmail.com
Or WhatsApp us to:
+51 965154772 (Fredy, the guy responsible of answering your emails and inquiries at headquarter)
How to book
You can get it fully booked by paying an Initial Amount via PayPal and the Total Balance must be paid in USD or PEN cash at the end of tour, then this is how you'll get your Tour Confirmation from us.
After we receive your "Booking Request", we'll back to you as soon as possible with the PayPal link and the exact first amount to be paid.
Additional information and requirements will be detailed on the email (or via WhatsApp).
After we receive your email we'll back to you as soon as possible with the PayPal link.
The exact amount and additional requirements will be sent to you later.
Now please, start by filling the Booking Form below.