Uyuni Salt Flats Milky Way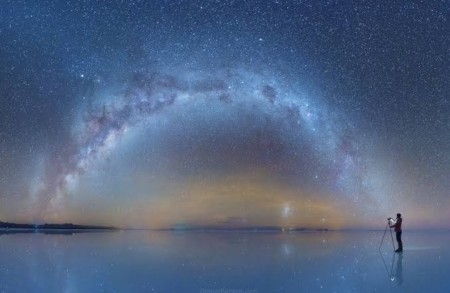 Price: From US$ 30 per person
Stargazing inside the Uyuni Salt Flat is one of the most sublime things you can do for enjoyment and inspiration. There is just something so wonderful about standing (or lying or sitting) under a starry sky that evokes feelings of awe and wonder.
During the rainy season, stargazers in Uyuni get an added bonus when relaxing under the night sky as the water reflects everything just like a giant mirror. The feeling is one of walking in space amongst the stars.
From the star clusters of the Southern Cross and nebulae of Sagittarius, to the interstellar gas of Carina and galaxies of the Fornax Cluster, there's no better place to stargaze than in Uyuni.
The sky in Uyuni is usually clear, and it offers magnificent opportunities for stargazing at night. If you have a good camera and some experience, you can take unbelievable time-lapse photos of the starry sky and the salt flat below it.
Questions & Answers
During what times of the year can you see the Mirror Effect?
The Mirror Effect occurs during the rainy season, so it can be seen during the months of January, February and March.
How is the weather? Is it very cold?
You need to keep in mind that this tour is in a high altitude and isolated area, so during winter the weather is very cold. These are the seasons during the year. - From October to March temperatures are warm, so days are around 20ºC (68ºF) and nights are less than 5ºC (41 ºF). - From April to September temperatures are cold, so days are around 10ºC (50ºF) and nights are around -5ºC( 23ºF) It is highly recommended to wear winter clothes during June, July and August months due to these months are coldest.
How can I get from Uyuni to La Paz?
The best way to get to Uyuni from La Paz is by plane or bus. We recommend the night bus of the company Transomar, which arrives in Uyuni at 6:00 a.m.
What kind of transportation is used for the trips?
The shared tours are done in 4x4 cars with 7 seats, 4 seats for our travelers and one extra for the driver.
Is there a choice of having a vegetarian menu without gluten...?
Yes, you just need to leave a note while you are making your booking so the driver will cook a special menu for you. In case of strong allergies pay special attention and for vegetarian/vegan diets, we recommend to bring snacks or any other complement due to our food will not have a high level protein on it like tofu or tempeh.
Do I need to bring money on the tour?
Yes, due to the Incahuasi access, Eduardo Avaroa parc and hot springs are not included. Moreover, during the tour you may need to buy water or souvenir, so it is advisable to bring around 300 pesos bolivianos.
If I select the extra: English speaking guide , can the driver and the guide be the same person?
Yes, if you select the extra: English speaking guide, in some cases, your guide can also be the driver of the vehicle. Depending on the availability of the staff and the size of your group, selecting this extra, you will travel in the 4x4 vehicle accompanied by 1 guide + 1 driver or only one guide who will also be the driver.
In which hotels is pick-up not included?
The hotels Hotel Palacio de Sal, Hotel Luna Salada, Hotel Cristal Samaña and Hotel Sumaj Rijcharij do not include pick up. We offer two options, free pick up when the tour passes through the area (after visiting the train cemetery and Colchani) or the extra that includes pick up and transfer to Uyuni to start from the beginning with the whole group.
Request Further Information. Get more. Do more.
If you have questions and doubts about Uyuni Salt Flats Milky Way, take your time in telling us your inquiries and we'll show you a lot more options.
Just email us at:
andeannwayss@gmail.com
Or WhatsApp us to:
+51 965154772 (Fredy, the guy responsible of answering your emails and inquiries at headquarter)
How to book
You can get it fully booked by paying an Initial Amount via PayPal and the Total Balance must be paid in USD or PEN cash at the end of tour, then this is how you'll get your Tour Confirmation from us.
After we receive your "Booking Request", we'll back to you as soon as possible with the PayPal link and the exact first amount to be paid.
Additional information and requirements will be detailed on the email (or via WhatsApp).
After we receive your email we'll back to you as soon as possible with the PayPal link.
The exact amount and additional requirements will be sent to you later.
Now please, start by filling the Booking Form below.