Uyuni to San Pedro de Atacama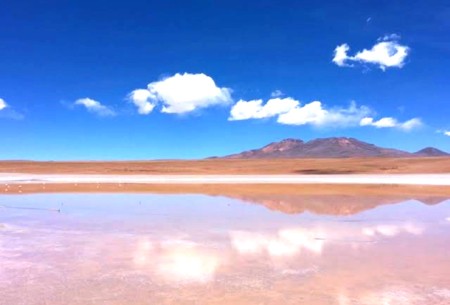 Price: From US$ 750 per transfer
Private direct transfer from Uyuni to San Pedro de Atacama will take approximately 8 hrs.
The transfer is made in 4x4 vehicles (1 up to 4 people)
We will take you to the Chile Bolivia Hito Cajon total are 8 hours of direct transportation until Atacama's downtown.
The direct transfer includes also stop for lunch. In case you want to visit some of the tourist attractions located on the way, you can check our tours to the Uyuni Salt Flat.
The direct transfer does not pass by the Uyuni Salt Flat. To get to the Uyuni Salt Flat.
Passengers from South America and passengers from Western Europe do not need tourist visa, while the passengers from United States, Central America, Asia and Africa do need tourist visa, which price is US$ 100 or US$ 160 according to the country.
The visa is obtained directly in the border, where along with the payment of the visa in cash (bolivianos or US dollars in good condition), the passengers will have to present their passport and two wallet-size photographs. In case you are a foreign person resident in Chile, besides your passport, you should take your ID card, so you can prove your residence to the police authorities in customs.
Uyuni to Atacama shared bus ride
For buying a bus ride ticket from Uyuni to San Pedro de Atacama you have to do it on Avenida Cabrera, Uyuni town, where the bus ticketing agencies are located.
Buses leave every day at 5:30am and 12:30pm. The trip takes you across landscapes of the Bolivian Altiplano and the Chilean deserts, and the border is crossed in Ollagüe, where all travelers must get off the bus to pass through immigration offices.
San Pedro de Atacama is a town in northeastern Chile. Its dramatic surrounding landscape incorporates desert, salt flats, volcanoes, geysers and hot springs. The distance between Uyuni and San Pedro de Atacama is of 520 km and the trip by bus between them takes around 12 hours.
Request Further Information. Get more. Do more.
If you have questions and doubts about Uyuni to San Pedro de Atacama, take your time in telling us your inquiries and we'll show you a lot more options.
Just email us at:
andeannwayss@gmail.com
Or WhatsApp us to:

+51 965154772 (Fredy, the guy responsible of answering your emails and inquiries at headquarter)
How to book
You can get it fully booked by paying an Initial Amount via PayPal and the Total Balance must be paid in USD or PEN cash at the end of tour, then this is how you'll get your Tour Confirmation from us.
After we receive your "Booking Request", we'll back to you as soon as possible with the PayPal link and the exact first amount to be paid.
Additional information and requirements will be detailed on the email (or via WhatsApp).
After we receive your email we'll back to you as soon as possible with the PayPal link.

The exact amount and additional requirements will be sent to you later.
Now please, start by filling the Booking Form below.