Valley of the Moon Tour + Chacaltaya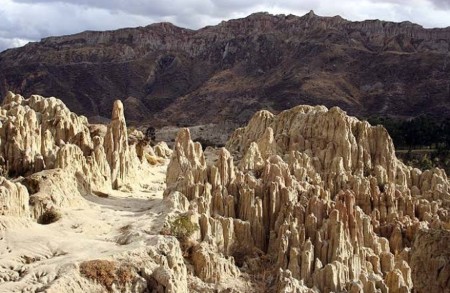 (Important: this itinerary is a literal transcription of kanootours.com)
Price: From US$ 25 per person
Chacaltaya was the "highest commercial ski area" in the world although very little sking takes place nowadays and it is mainly visited to witness the stunning views of the Cordillera Real mountain range from Chacaltaya's 5300 meter peak.
Chacaltaya is a good day trip from La Paz and possible for anyone who has acclimatised a little.
OVERVIEW
Chacaltaya - Although known as the highest "ski resort" in the world it is rare to see anybody on the slopes nowadays as the glacier has receded rapidly in recent years due to climatic changes. The 5380 meter mountain is still a fantastic day trip from La Paz and its location provides stunning views over the Cordillera Real, over to Lake Titicaca and back towards the cities of El Alto and La Paz. This is a chance to get the views that mountaineers get without doing all the climbing. Also a visit to Chacaltaya is an opportunity to witness first hand the devastating effects of global warming on our planet.
ITINERARY
The trip starts in the morning around 8.00 to 9.00 when the bus picks you up from your hotel (not all hotels are in the pickup area though - please see list below) and you begin with a journey through La Paz up to El Alto and onto the Altiplano towards the mountain range where Chacaltaya sits. Along the way you will see alpacas and llamas grazing in the hills and views of Huayna Potosi amongst other mountains in the Cordillera Real range. If you wish you can stop off at a local store along the way to buy some coca leaves to chew to help ward of symptoms of altitude sickness - Chacaltaya is some 1700 meters higher than La Paz!
As you get closer to Chacaltaya you will gradually be gaining altitude and start to feel the temperature falling. Most people feel the effects of altitude to some degree and it is best to have spent a least a few days in La Paz before trying to go up to these heights. A winding road climbs steeply up the mountain and you will arrive at the 5100 meter refuge after approx. 2 hours from La Paz. Putting on all your warm clothes you pay the entrance fee at the Chalcaltaya Ski lodge and if you wish can climb the last 200 meters up to the top. This sounds easy but every step at this altitude is harder than you expect. The views from the refuge and summit of Chalcaltaya are stunning and this is rare chance to get up this high without mountain climbing and equipment. Illimani and Huayna Potosi are just two of the mountains viewable. Afterwards you can sip a welcome warm drink in the refuge before the bus sets off back towards La Paz and then on to the Valley of the Moon.
Valle de la Luna (the Valley of the Moon) - Located in the southern zone in the village of Mallasa and parallel to La Paz golf course (the highest tournament standard golf course in the world) the "Valley of the Moon" is landscape of eroded rock and pinnacles with a lunar like appearance. It can make for interesting photographs and a pleasant walk to view the different formations. Several species of cactus can also be seen. The tour is usually brief and consists of around a 30 minute guided walk. This area is lower than central La Paz and is much warmer. At the end of the walk there is a good view of La Paz city.
Included
Transportation and pick up from your central Hotel or Hostel
Guide - English and Spanish-speaking
Not included
Entrance fees - 30bs total
Travel insurance
Water / extra beverages
Meals and snacks
Sunglasses and sun cream (recommended)
Insect repellent
Tips for guides
Important information
HOTELS IN THE PICKUP AREA - Here you have a list of the most popular La Paz hotels that are in the pick-up area for this Chacaltaya & Moon Valley tour. Pickup time varies according to the hotel location.
Ho(s)tels definitely in the pickup area are: Loki, Savoy, Cordillera Real, La Valle, Alsigal, Inca's Room, Rosario, Estrella Andina, Cruz de Los Andes, Sol Andino, Las Brisas, Sajama, Berlina, Hostal Gloria, Hostal Copacabana, Milton, Golden Palace, Maya Inn, Sagarnaga, Alem, Fuentes, Condeza, Posada de La Abuela Obdulia, Provenzal, Nuevo Sol, Naira, Onkel Inn, Osira, Wild Rover, Residencial Latino, Victoria, Bamboo, Ananay, Bacoo, Arthy's Guesthouse, Bunkie Hostel, Adventure Brew Hostel and BB, Avenida, Perla Negra, Tambo de Oro, Hotel Latino, LP Columbus.
N. B. There are other hotels that are within the pickup area and that were not mentioned in the list - please ask if your hotel is near any of the above, we might be able to pick you up from there (will have to check). Having said that, pickup is from CENTRAL LA PAZ HOTELS only - we do not pickup from apartments / AirBnb accommodations and from areas outside of Central La Paz (Miraflores, Sopocachi, San Jorge, Calacoto, San Miguel are all OUTSIDE of the pickup area).
If you want to take the tour but are not within the pickup area you must make your way to San Francisco Church and will get picked up from there.
This tour goes up to an altitude of 5300 meters (17388 feet) so it is essential that you are acclimatized at least for a couple of days to altitudes above 3000 meters.
You do not have to be extremely fit for this tour though as the walking is optional and at an easy level.
There is a requirement of a minimum of 6 people booked in order for this tour to be confirmed so we do not guarantee departures until that amount has been reached, buy we usually manage to have enough people and confirm almost daily departures.
Request Further Information. Get more. Do more.
If yoChave questions and doubts about this Valley of he Moon and Chacaltaya day tour, take your time in telling us your inquiries and we'll show you a lot more options to do (re-design).
Just email us at:

andeannwayss@gmail.com
Or WhatsApp us to:
+51 965154772 (Fredy, the guy responsible of answering your emails and inquiries at headquarter)
How to book
You can get it fully booked by paying an Initial Amount via PayPal and the Total Balance must be paid in USD or PEN cash at the end of tour, then this is how you'll get your Tour Confirmation from us.
After we receive your "Booking Request", we'll back to you as soon as possible with the PayPal link and the exact first amount to be paid.
Additional information and requirements will be detailed on the email (or via WhatsApp).
After we receive your email we'll back to you as soon as possible with the PayPal link.
The exact amount and additional requirements will be sent to you later.
Now please, start by filling the Booking Form below.