Moon Island Day Trip from La Paz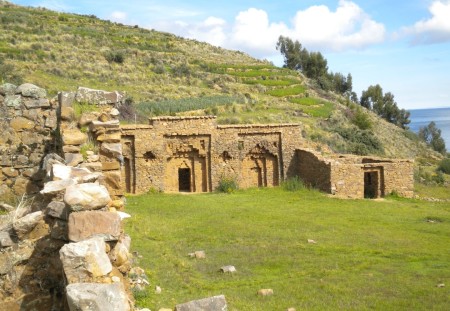 US$ 285 for one person (private)
US$ 172 per person (2 up to 4)
Moon Island Bolivia Tour is a private day car trip from La Paz to Copacabana.
A guided La Paz to Isla de la Luna trip where other tour operators navigate from Copacabana, instead you'll be driven to a community in Copacabana peninsula with a close departure to Isla de la Luna.
You're going to navigate from Sicuani pier gaining time to explore the Island.
Navigating by motor boat from Copacabana to Mon Island or Isla de la Luna in Bolivia on the waters of Lake Titicaca simply a few do. It is a great experience to travel and enjoy the surrounding scenic views, the temple of the virgins of the Sun.
When you book a boat trip from Copacabana, this journey could take a lot of time (1h 55min boat ride) and the time to stay on Moon Island is reduced from 30 to 45 minutes.
From our point of view for planning better and enjoying the most of your visit to Island of the Moon, there is an uncommon, or at least not regularly taken by local operators, which is to drive from Copacabana to Sicuani pier for 30 min then immediately aboard a covered section local motor boat to go to Moon Island navigating for 40 min only.
We have run this unique way to reach Moon Island since we don't want to get trapped in the crowds. We really want to offer the best off the beaten tours.
Copacabana to Sicuani road
While driving to Sicuani a magnificent view rises in front of us, on the left side is the immensity of the Lake in contrast to the right side landscape offers singular rock formations, trees everywhere, up and down paths, local people in their daily basis, etc.
You get an English speaking tour guide. Who is friendly, expert and knowledgeable guy delivering some very good cultural and historical facts of the place and region.
La Paz to Copacabana, Isla del Sol guided boat trip, activities, meals at Titicaca House. Day 2: Moon Island trip, lunch, go to La Paz.
Our team will make you feel like in family.
After you reach to the Isla de la Luna and visited the temple of the virgins of the Sun or Inca. You'll be taken to a nice-looking place for lunch. You would opt to have lunch in Copacabana as well.
You'll definitely gain wide range of information. Who were the first civilizations, is that true Moon Island was a sacred place?
Copacabana Church
After lunch you'll be transferred back to Copacabana and then after to La Paz via the same way.
Moon Island Bolivia Tour ends with the drop-off by your selected hotel in La Paz.
Drop-off at hotels located in Southern La Paz is included too.
Schedule of Departures and Arrivals
7:30 am pick-up from La Paz hotel and drive to Tiquina then to Copacabana.
9:00 am cross by small local ferries the Strait of Tiquina (payment is done in person: $ 2)
10:00 am arrival to Copacabana. Following that we'll keep driving to Yampupata.
10:30 pm arrival to Yampupata community in the Peninsula of Copacabana and we're taking the local small covered motor boat to go Moon Island.
11:15 am visit of the Temple of the Virgins.
1:00 pm lunch on the same Island overlooking the Snow Mountains in the Bolivian range.
2:30 pm take the boat again and return to Yampupata.
3:00 pm upon arrival to local Yampupata pier take the same vehicle and drive to Copacabana and back to La Paz.
3:30 pm we have some free time to explore Copacabana town escorted by your guide and quick visit of its attractions: Local market, Church, Candelabro.
7:00 pm Drop-off at your hotel in La Paz (+20 min if it is in the Southern)
What we provide (what is included)
Private land transfer from La Paz to Copacabana to Yampupata.
English speaking guide.
Lunch on Moon Island or at Copacabana town.
Entrance fees to Moon Island.
Small covered engine boat at Yampupata to Moon Island.
Return to La Paz and drop-off by your hotel.
What you should bring
Sun block.
Extra cash.
Jacket.
Hat.
Alcoholic and cold drinks are not included at the restaurant.
Request Further Information. Get more. Do more.
If you have questions and doubts about Moon Island Bolivia Tour, take your time in telling us your inquiries and we'll show you a lot more options.
Just email us at:
andeannwayss@gmail.com
Or WhatsApp us to:
+51 965154772 (Fredy, the guy responsible of answering your emails and inquiries at headquarter)
How to book
You can get it fully booked by paying an Initial Amount via PayPal and the Total Balance must be paid in USD or PEN cash at the end of tour, then this is how you'll get your Tour Confirmation from us.
After we receive your "Booking Request", we'll back to you as soon as possible with the PayPal link and the exact first amount to be paid.
Additional information and requirements will be detailed on the email (or via WhatsApp).
After we receive your email we'll back to you as soon as possible with the PayPal link.
The exact amount and additional requirements will be sent to you later.
Now please, start by filling the Booking Form below.